Description
AORUS RGB AIO Liquid Cooler 280
Part #: GP-AORUSLIQUIDCOOLER280
Gigabyte has launched a trio of new AiO liquid coolers. These coolers, which will bear the livery of its gaming orientated Aorus brand, are said to build on the success of the ATC800 cooler, released earlier this year (twin 120mm fan air cooler with 6x copper heatpipes and RGB Fusion 2.0).
These new Aorus AiO coolers come with radiator sizes of 240mm, 280mm (dual fans) and 360mm (triple fan). Whichever model you choose it will feature an Asetek Gen6 Pump and Aorus designed dual ball bearing quiet RGB fans.
In its own testing, using Prime 95 to stress the system CPU, Gigabyte found that "Aorus Liquid Coolers tested up to 7 per cent cooler than other AIO coolers in the market when running Intel i9 9900K CPUs at all cores 5GHz+".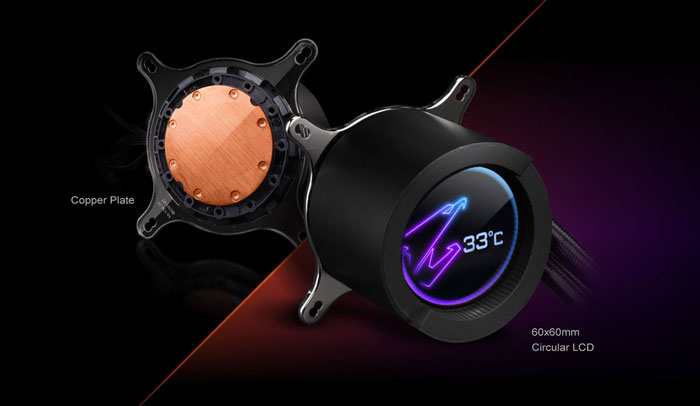 All the new AiO coolers come with a stylised circular LCD display on the pump cap. The cap display can be customised and comes with four modes/tools to get you started; Enthusiast Mode, Function Mode, Custom Mode, and Display Rotator for users to display CPU model information, related fan performance data, or custom images and text. An Image Rotator mode allows users to cycle thought their own LCD image designs. Use Aorus Engine software to configure the images and text displays on the pump display and for various other lighting / sync effects. The same software allows users to adjust fans and pump speeds (zero dB modes available).